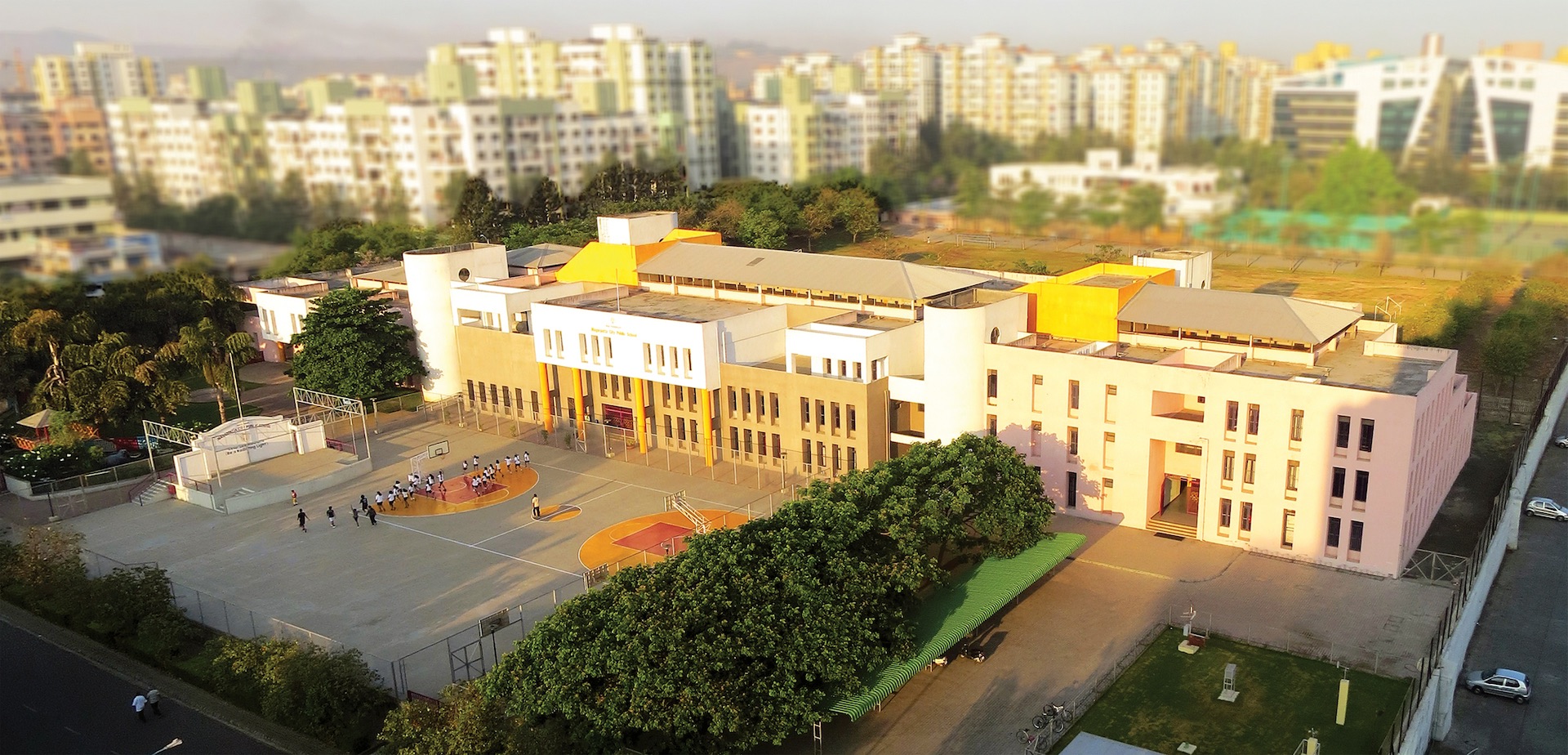 Project Magarpatta School
Public Project of Magarpatta City Township
City Public school fulfills the concept of walk to school of Magarpatta City.The distance from home to school is less than a mile, encouraging children to walk or cycle to school.
Plot Area = 27,000 sq.mt
Built up = 9 ,000 sq.mt
The child and parents both feel at safe since the school is near residence and the commute time is negligible.Planning
Courtyard planning and horizontality is the main concept of the school. School is linear , three floored with long corridors and courtyards at intervals. Courtyards divide the space in differnt sections of school like pre- primary , primary and secondary. Corridords and staircases on both the sides of the courtyard join the different spaces of school The school sits in between the basketball courts and garden in the front and play area and Football ground at the back. School is constructed in Fly Ash bricks which is a sustainable material and was kept in exposed brick work for long. Recently , the school got painted
Courtyard planning with classrooms surrounding it is the main concept of school. School is linear and rectangular. Height is restricted to three doors for safety purpose. Long and wide corridors connects the different spaces of classrooms. Pockets in the corridords as well as terraces on each door act as interactive and gathering place for students. Courtyards provide right amount of light and ventilation to the corridors and the classrooms. The first courtyard and the classroms around it are used by the pre-primary section and hence are designed using play of lines.Each classroom in the school has long windows at intervals and vetilatiors assuring right light and ventilation. Courtyards - Magarpatta School is deisgned on the concept of courtyard, with classroom surrounding them. The school is designed linearly so as each classroom gets light and ventilation from outside as well as the courtyard. In all there are four courtyards, the nursery section uses the first , the primary section uses the second while the third and fourth courtyard is used by the secondary section. Courtyard provides light and ventilation to the classes and the corridors. The Courtyard forms the breathing space for children during their break timings, students gather , they sit and chat and play games. Lot of interaction takes place due to courtyards. Aseembly takes places as well as indoor sports competion takes place in the courtyard.