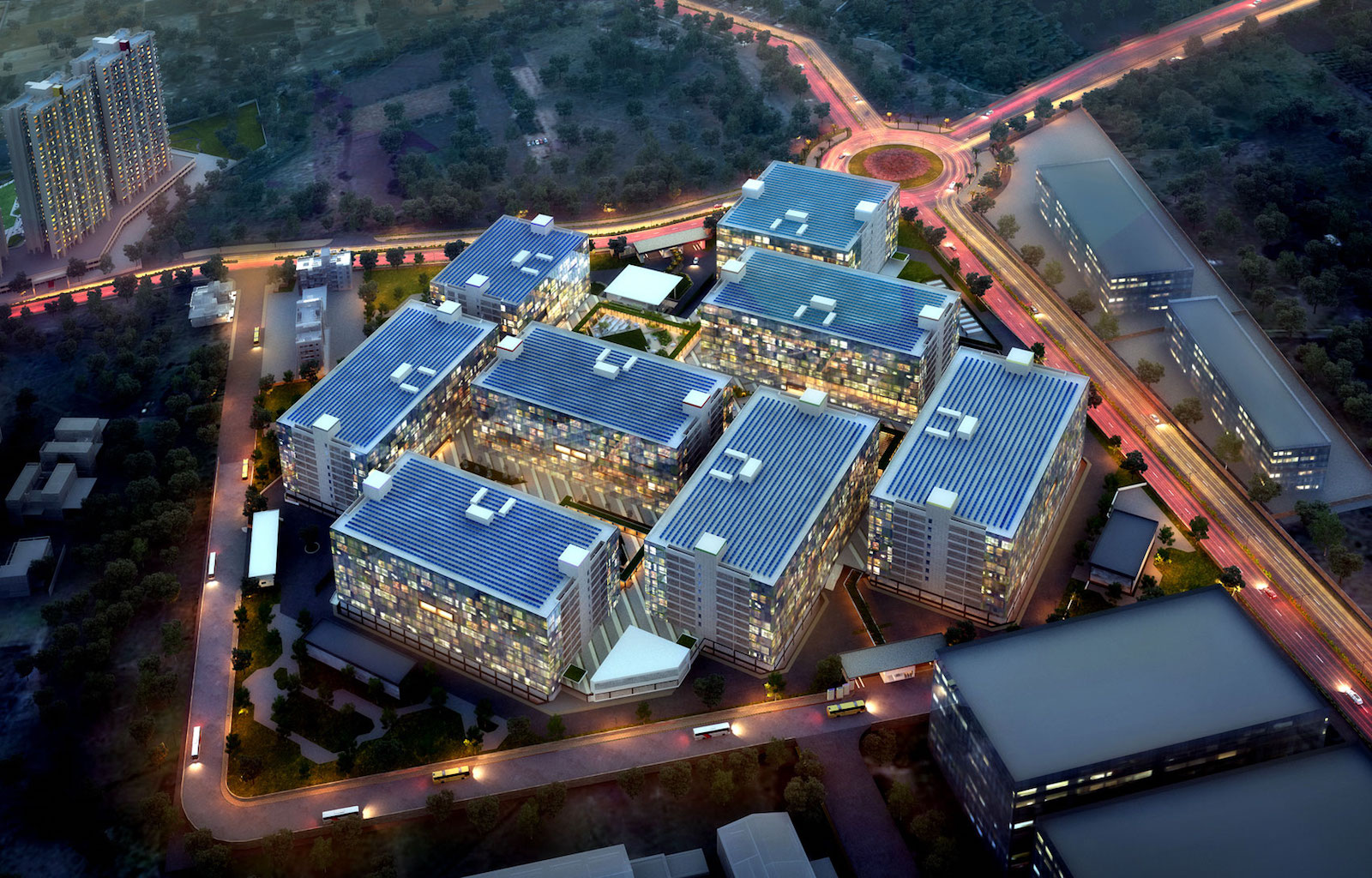 Project Symphony IT Park
Commercial Project of Nanded City Township
Symphony IT Park located in the western part of the pune on the arterial sinhagad road, is a complex of eight office towers which offers working space for IT companies & software developers for commercial activities, the design concept for IT Park is to create a symphony of buildings with the existing facilities available within nanded city. The interface building placed at an oblique angle with each building façade facing away from the surrounding road which runs in a loop and woven together with a raised podium. The building composition create a landscape pockets on the podium which provides interactive spaces & views for user. The site has a natural slope towards the north so ramps are provided to reach towards the southern side.
The design has three access controlled gates, main entrance gate oriented on northern side from nanded city main road, two other gates are oriented on western and southern periphery segregating vehicular and pedestrian moments. The raised podium has solar shaded walks ways, food kiosks, landscape (shrub beds, trees, water bodies, sit outs) which creates green environment for user. The building façade suggests grid pattern of tinted glass associated with different shades of colors.(Green, Light & Dark Blue).For signage the colors of the ceramic frit glass used for the building façade is different for each building.The variable façade is an interesting backdrop for the user standing over the podium level.
The design comprises of 8 office buildings which are connected at podium level with three typologies. The respective Buildings are B1, B2, B3, B4, B5, B6, B7 & B8, Utility building for electromechanical services, an Entrance plaza building, Security office, Food kiosks, Day care center for infants and toddlers of working parents .The floor plate of B1 building measures 64.90 M X 64.90 M comprising offices ,supermarket and cafeteria.The floor plate of B2 TO B7 buildings measures 96.90 M X 48.90 M comprising offices, The floor plate of B8 building measures 64.90 M X 48.90 M comprising offices. Each building has two level parking P1 & P2, connected podium & 9 floors ,circulation lobbies with two entrance door on either side, which lead the user to their respective offices.